Description
This suit is made entirely of 4-Way stretch material for the ultimate in comfort.
This 7mm suit is made entirely of a 4-Way stretch material for the ultimate in comfort. Cut perfectly it is sure to be the ladies' favourite.

Glued and blind stitched inside and out. Glide skin seal at neck, wrists & ankles. YKK #10 Brass zipper. Low profile water sealing zipper design.

ZIPPER: YKK #10 brass zipper. Our unique zipper design utilizes dual rubber strips to additionally seal the zipper opening when closed, creating a water resistant closure. In addition, our low profile zipper flap folds over a closed zipper to further seal and secure the zipper in its closed position. The reinforced pull loop at the base of the zipper makes self-donning of the suit fast and easy.

GLIDESKIN: The new AKONA glide-skin neck, wrist and ankle seals minimize water entry and flushing of the suit. The neck, wrists and ankles of these AKONA wetsuits are flush-cut for this purpose. The extremely slick surface and flexible properties of the glide-skin material enable the wearer to enter and exit the suit with ease.

KNEE PADS: Our uniquely designed and stylistic knee pads provide exceptional grip and durability. Unlike the stiff rubber knee pads utilized on other suits today, our revolutionary AKONA knee pad material is fully flexible, and has a hydrodynamic low profile.

SHOULDERS: Our AKONA Grab Shoulder material provides superior wear and scuff protection. Designed to grip a buoyancy compensator to reduce shifting, the Grab Shoulders create a snug and movement-free fit. The unique pattern of the Grab Shoulder material also prevents excessive stretching of the suit when hung to dry.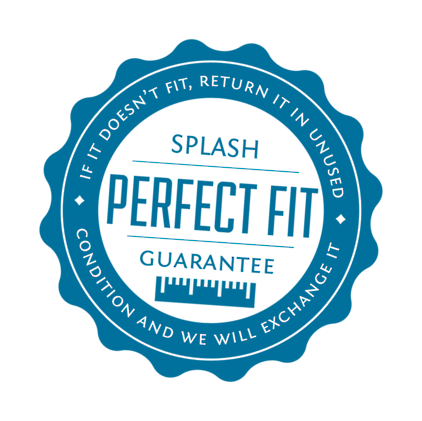 Size Chart
X
Size Chart
| Size | Chest (cm) | Waist (cm) | Hips (cm) | Height (cm) | Weight (kg) |
| --- | --- | --- | --- | --- | --- |
| 5/6 | 79-84 | 56-61 | 84-89 | 152-168 | 45-50 |
| 7/8 | 86-91 | 63-69 | 91-97 | 158-174 | 50-59 |
| 9/10 | 89-97 | 68-72 | 96-99 | 161-177 | 54-63 |
| 11/12 | 94-99 | 71-76 | 99-102 | 164-180 | 57-66 |
| 13/14 | 99-104 | 78-84 | 106-111 | 176-180 | 65-75 |
| 15/16 | 104-110 | 82-91 | 114-123 | 176-183 | 75-86 |
0 Reviews
This product hasn't received any reviews yet. Be the first to review this product!
Write a Review
Shipping & Returns
Returns Policy
30-Day Refund
We are absolutely committed to making sure you're happy with your purchase. You can return any product purchased from splashdive.com.au in an unused, brand new condition within 30 days of the date of the purchase and we will refund your money back. Please advise us by email and include a printout of your original invoice if you return a product to us.


Perfect Fit Guarantee
Please use our indicative sizing guides which show height and weight ranges and other measurements to choose your size. If you have any queries about size, you can advise us when you complete your purchase in the comments field. We will contact you and make sure we're sending you the best possible size. If you receive an item and it doesn't fit to your satisfaction, you can return it to us in an unused, brand new condition and we will send another size free of charge. Please advise us by email and include a printout of your original invoice if you return a product to us.


Shipping
Free Shipping for orders over $100
Standard Shipping: $14.95
Standard Shipping Tracked: $19.95
Fast Shipping Tracked: $24.95 (1-3 days)
Once your payment has cleared, your order will be packed and dispatched within our 48-hour guarantee.
How long will it take to get my order to me?
We use tracked International EMS Post for 3-10 days delivery anywhere in Australia.