Description
This freediving suit is designed to give maximum comfort and protection while allowing resistance-free movement.
Smooth skin hood, wrist and ankles seals for extra protection and durability.
• Unique pre-formed cut including 'Raglan' shoulder pattern design.
• Twin locking buttons with Lyrca 'BTN' neoprene on the beaver tail.
• Open-cell neoprene inner / polyester camo jersey outer.
• Durable stitching with anti-fraying protection points.
• Wide loading pad moulded with non-slide rubber.
• Supratex DBS knee and seat pads.

Open-cell neoprene suits must be lubricated before putting them on. Squirt the inside of the suit with soapy water such as body-soap or dish-washing liquid. Shake the suit up to ensure the liquid is dispersed throughout and then slide it on. If you find the suit does not go on easily, keep squirting soapy water inside the suit until it does. Be extra careful with your finger nails when sliding the suit on as these can snag on the inside of the neoprene creating tears. Most tears can be repaired by using a good quality neoprene glue. Rinse your suit inside and out with fresh water and store dry, ready for your next underwater adventure.

Any tears can generally be repaired by using a good quality neoprene glue (see below).

The size chart below is only a guide. These suits are super-stretchy and almost every body shape will fit into one or two sizes. The correct size should be close fitting everywhere, should keep water out but allow free movement.

Sizing
| | | | | | | | |
| --- | --- | --- | --- | --- | --- | --- | --- |
| | S | M | L | XL | XXL | XXXL | XXXXL |
| Height | 157-168 | 165-174 | 170-180 | 173-183 | 180-188 | 183-190 | 183-190 |
| Weight | 55-65 | 60-72 | 68-80 | 75-95 | 95-110 | 105-120 | 115-130 |

Yes we can mix and match sizes! Please contact us if you require a mixed size wetsuit or half a suit.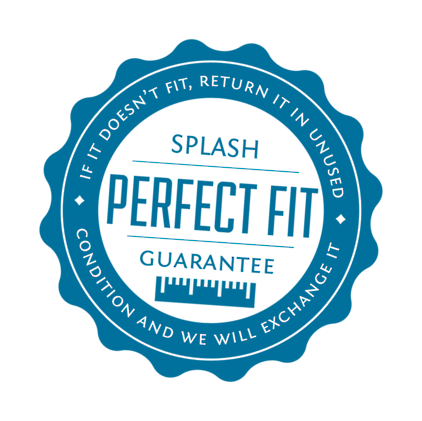 0 Reviews
This product hasn't received any reviews yet. Be the first to review this product!
Write a Review
Shipping & Returns
Returns Policy
30-Day Refund
We are absolutely committed to making sure you're happy with your purchase. You can return any product purchased from splashdive.com.au in an unused, brand new condition within 30 days of the date of the purchase and we will refund your money back. Please advise us by email and include a printout of your original invoice if you return a product to us.


Perfect Fit Guarantee
Please use our indicative sizing guides which show height and weight ranges and other measurements to choose your size. If you have any queries about size, you can advise us when you complete your purchase in the comments field. We will contact you and make sure we're sending you the best possible size. If you receive an item and it doesn't fit to your satisfaction, you can return it to us in an unused, brand new condition and we will send another size free of charge. Please advise us by email and include a printout of your original invoice if you return a product to us.


Shipping
Free Shipping for orders over $100
Standard Shipping: $14.95
Standard Shipping Tracked: $19.95
Fast Shipping Tracked: $24.95 (1-3 days)
Once your payment has cleared, your order will be packed and dispatched within our 48-hour guarantee.
How long will it take to get my order to me?
We use tracked International EMS Post for 3-10 days delivery anywhere in Australia.